THE HUMAN SKI-IN 1996
Thank you, for a real good time...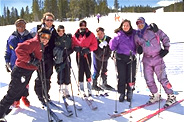 After two years of planning, The Human Ski-In became a reality in 1996. What started as a spark of an idea one day in 1994 bloomed into an event that will become an annual gathering of Deadheads to enjoy the winter wonderland of the Colorado Rockies.
Twenty-five fellow Deadheads participated in the Human Ski-In 1996, with folks coming from Sacramento, CA; Taos, NM; Denver, Glennwood Springs and Breckenridge, CO.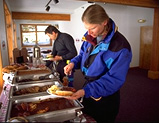 The day started early-eight am-in the Maggie Restaurant at the bottom of Peak Nine. Folks gathered for a bite of breakfast and to register for the ski race that started at ten o'clock on the Country Boy NASTAR course.
The race got under way on time and with tons of enthusiasm. Each of the racers got two qualifying runs on the course and were awarded NASTAR medals based on their best run and their handicap. Two local Breckenridge brothers, Michael and Robert, were going all out trying to beat each other, finishing just .79 seconds apart.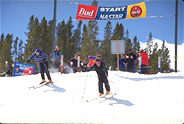 The Breckenridge Race Officials were impressed, telling us that we were a pretty fast group. Fourteen racers came in at 20 seconds or less, with the rest falling in between 21 and 24 seconds. The top eight finishers had times that ranged from 18.16 for the winner, Michael Penegor , to 18.95 for his brother Robert in eighth place. I'm told anything less than twenty seconds is pretty dang good.
Three Gold, twelve Silver, and two Bronze medals were awarded by the Breckenridge Race Officials. Our top finisher walked away with a pair of graphite ski poles from Izbo Prostix, a US ski team shirt from Not Fade Away Graphics and lunch for two at Poirrier's Cajun Restaurant in Breckenridge.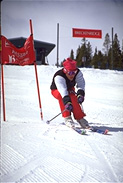 After the race, which ended at about noon, we all headed off to Peak Eight for lunch provided by the fine catering folks at the Breckenridge Resort. Typical of a BBQ, we had chicken, hamburgers, veggie burgers, an assortment of salads, cookies and plenty of soda and ice tea. Lunch was a relaxing two hour affair with Heads hanging out, swapping tour stories and generally getting to know each other better. We were all connected by virtue of the band we grew to love over the years and by our collective enthusiasm for skiing. Smiles were plentiful.
As Lunch wound down, we got antsy to ski. We gathered in groups, depending on who wanted to ski where, and ventured onto the hill for an afternoon of outrageous skiing. The Steves, Matt, Barton, Bruce, Patrick and I ventured for a hike up to the Y Chutes on Peak Seven, atop the T-bar. We forged ever higher to go where the tracks were few. Clouds alternatively covered and revealed the sun as the wind gusted. It was a bone chilling wind; I sweated heavily and my chest heaved as I sucked atmosphere at just under twelve thousand feet. The wind was no deterrent this day, we wanted to ski.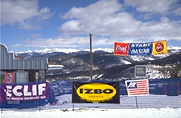 The gang gathered at the top, caught it's collective breath, and took off down the Y Chutes amid whoops and hollers of skiing joy. The snow was magnificent; skis carved arcs in powder that felt like the finest cake icing. This is what the Human Ski-In was meant to be: skiing with fellow Deadheads, many of whom had never met before, and sharing the ecstasy of a great ski day in Breckenridge.
For the next hour we stuck to the T-bar, skiing the double diamonds of Horseshoe, Cucumber and Contest Bowls. We finished the day with a few bump runs on Peak Eight under the Colorado Quad and on the High Anxiety, Boreas and Rounder's runs.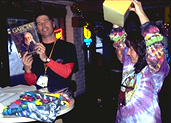 At 4:00, the group met up again at the Gold Pan Bar under the Maggie for apres ski fun. Inca dressed the place up for the party, laying out the prizes, putting up posters and organizing seating for everyone.
During the party, I awarded poles, shirts and goggles to the top four race finishers. This was a great opportunity to give away all the kind booty my sponsors supplied including tapestries, shirts, stickers, hats and a pair of American Beauty skis from K2. I also gave away some wonderful Grateful Dead collectibles: Jerry Garcia commemorative magazines. Everyone that attended the Human Ski-In 1996 walked away with a gift. Later that night and again on Sunday, St. Patrick's Day, folks danced their asses off to Shakedown Street at Shamus OÕTooles Roadhouse.


A grand time was had by all making the Human Ski-In 1996 a great success. I thank everyone who came out to Breckenridge to join us at the Ski-In this past March. I also thank my sponsors for their support. See you in 1997.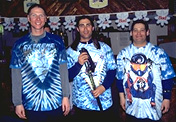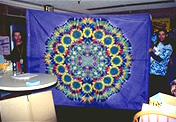 [ Home ] ~ [ Tour Logistics ] ~ [ Lodging Rates ] ~ [ Airfare ]
[ Trip Request Form ] ~ [ HSI '97 ] ~ [ Our Favorite Sizzlin' Links ]



THE HUMAN SKI-IN 1998
Produced by On The Mountain
jarid@well.com